Ready for an Oil Change? Mercedez-Benz of Fort Myers Has You Covered
Your Mercedes-Benz (models 2008 or older) vehicle is a precisely-engineered piece of machinery that delivers outstanding performance when well maintained. A key part of that maintenance is regularly changing your engine oil to ensure a long life and continued reliability. Mercedes-Benz of Fort Myers is here to help, with expert technicians and a thorough knowledge of your (models 2008 or older) Mercedes-Benz model that you won't find anywhere else.
Why is an Oil Change Important?
Your engine relies on dozens of fast-moving metal parts sliding past each other thousands of times per minute to produce the power that moves you along. This metal-on-metal contact results in a tremendous amount of friction and heat, both of which can be incredibly damaging. Engine oil lubricates these parts to reduce both friction and heat simultaneously, which allows you to drive without your engine seizing.
Over time, heat and friction break down engine oil and it becomes too thin to properly cling to and lubricate surfaces as well as it needs to. This results in increased wear as there is a thinner layer of protection between these moving metal parts, and over time can create the dreaded 'knock' we all know to be the death knell of any engine.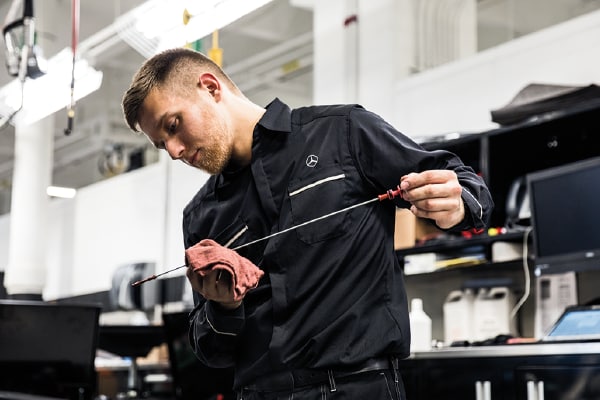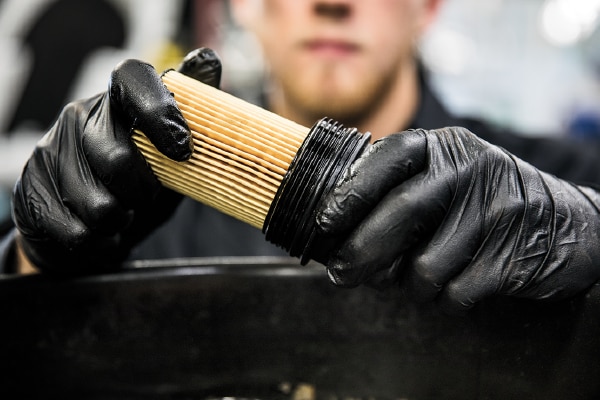 In addition, dirt that makes its way through the air filter can contaminate engine oil over time. Your filter does its best job to eliminate these particles from the equation, but once your filter is fully-clogged that dirt remains in your oil and creates sludge. Sludge also reduces your oil's ability to lubricate your engine, and clogs critical passageways resulting in areas of your engine being starved of oil.
For these reasons, you should have your oil changed at least twice a year, even if you aren't racking up the miles. But if you are, we recommend visiting us for an oil change every 5,000-7,500 miles, depending on your driving style and conditions. If you're frequently in stop and go city traffic, we'd recommend a shorter interval, while frequent highway cruisers can wait a bit longer.
Let Our Experts Change Your Oil
At Mercedes-Benz of Fort Myers, our factory-trained technicians know precisely what your engine needs with each oil change. The highest quality oil, best recommended filters, and a superior knowledge of your vehicle (models 2008 or older) make us the best-equipped location for your Mercedes-Benz oil change service. We can help you stay ahead of problems before they start, and keep you up to date with your recommended service intervals.
Hours
Monday

9 AM - 7 PM

Tuesday

9 AM - 7 PM

Wednesday

9 AM - 7 PM

Thursday

9 AM - 7 PM

Friday

9 AM - 7 PM

Saturday

9 AM - 6 PM

Sunday

Closed